Island of Capri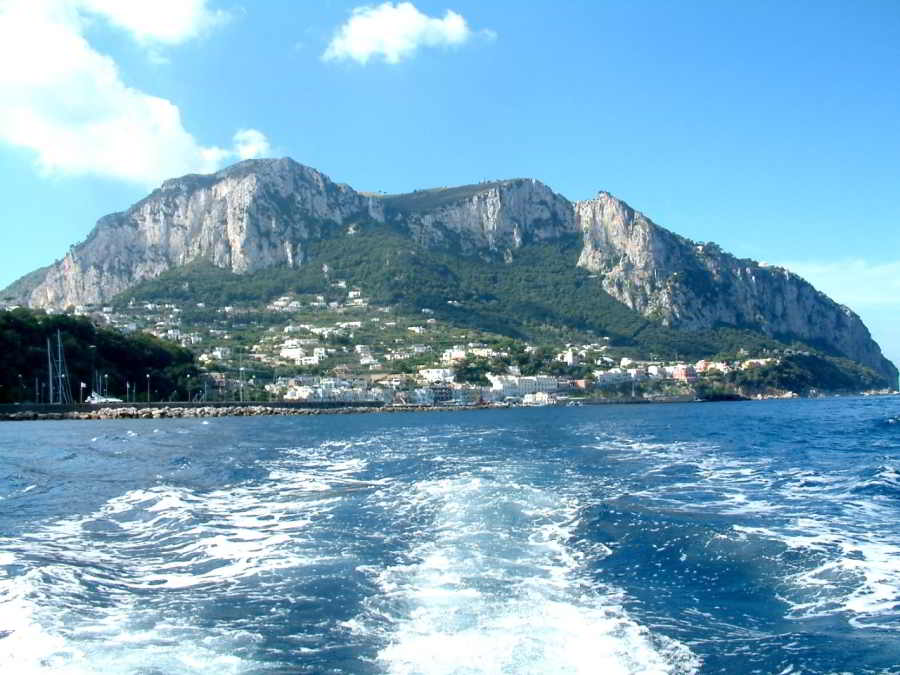 Capri is one of the world's most beautiful and famous tourist destinations.
The island lies between the Gulfs of Naples and Salerno, a short distance from the promontory separating these two gulfs that characterise the Campania region's coast, and only 5km from Punta Campanella – of which it is a natural extension. Its instantly recognisable profile when seen from a distance is created by two mountains separated by a central plateau, the coastline plunging steeply into the deep sea surrounding the island. This rocky coast is indented by more than 65 sea caves (including the famous Blue Grotto), and split into spectacular rock formations, including the equally renowned Faraglioni.
Already a tourist destination at the time of the Roman Empire, it was discovered by the Emperor Augustus and later chosen by his successor Tiberius – as well as by many other members of the Roman Patrician class – as a privileged place of residence. Always strongly connected to the political fortunes of Naples, it enjoyed a period of artistic splendour in the 16th and 17th centuries – we can see this today in its churches from that era.
A destination for the world's elite, Capri has attracted various world-famous intellectuals, writers and artists – among them Axel Munthe, Thomas Mann, Rainer Maria Rilke, Pablo Neruda, Curzio Malaparte and many others.
Today, Capri continues to be a high-class tourist destination. At the same time, its local inhabitants still conserve the lively, down-to-earth spirit of the traditional fishermen who welcomed those distinguished 19th and 20th century visitors – who in turn made Capri into one of the obligatory destinations on the Grand Tour.
Whether you choose to come to Capri for a brief visit, or decide on a longer stay in one of its top-class hotels, you will have an unforgettable experience.